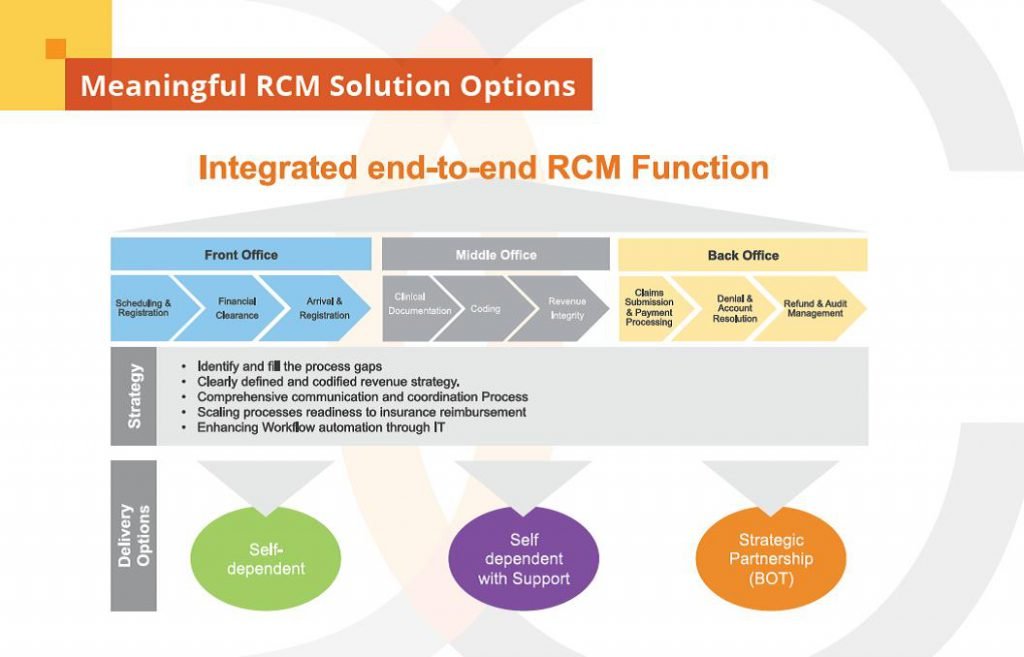 Only through a holistic approach,revenue cycle transformation can be achieved optimally.Fotis solution integrates data and supports updates in rules, payer wise, while analyzing rejection trends in micro levels. This leads to improved time management for the physician appointment scheduling, better clinical operational outcomes and greater reimbursements

By working with this vision, we achieve and optimize each revenue cycle process and also optimize the interface points between processes, where we fundamentally believe the most value can be achieved.
Fotis Integrity Solutions leverage advanced technology and analytics, a proprietary rules engine and healthcare expertise to help providers gain accurate and timely reimbursement for the care provided. The dash board of Fotis provides all the BI tools to analyze claims made, claims received, claims on resubmissions and pending claims with the payers.
CONTRACT MANAGEMENT AND TARIFF OPTIMIZATION
Analyses each payer contracts and tariff master to identify opportunities for improved consistency in billing structure and evaluate cost viability per service. Also helping with accurate date for renegotiation and creating value based pricing.
CHARGE CAPTURE
Identification of incorrect coding and missing charges, and review for net revenue potential. Analytical insights influence process change to reduce or eliminate future occurrences. Suggests additional procedures to be performed within the coverage of the policy.
CODING REVIEW
Analysis of payer wise accounts and claims to determine proper use/ update of CPT and HCPCS codes and DRGs.
DENIAL MANAGEMNT
Auto identification of accounts that have been incorrectly reimbursed or denied, and management of resubmission and reconciliation process accurately. Also auto re batching of claims.
STRATEGIC PRICING
Analysis of the payer tariff and contracts with market competitiveness and identify areas of pricing opportunity and to create pricing scenarios aligning with strategic goals.